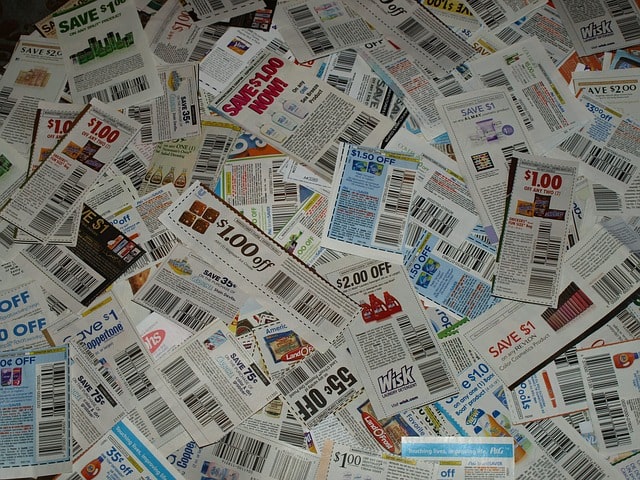 Coupons have been around for a long time. In fact, the first coupons were printed on paper slips and were used by stores to reward customers who bought products. Even back then, coupons were a way for big businesses to get more customers and drive-up sales. The industry saw this potential as retailers saw an opportunity to provide more freebies and incentives for shoppers. In marketing, a coupon is a ticket or document that can be redeemed for a financial discount or rebate when purchasing a product. Recent study found that 4 families in 5 use coupons in United States.
How coupons work?
The coupon will include information about when it can be used and how much of a discount it represents. The consumer would take this coupon to the retailer and they could use it along with their other coupons, loyalty cards, or gift cards. The retailer will scan the coupon to determine if it is valid for that consumer at this time and apply any available savings or discounts associated with it.
Many coupons have specific terms and conditions, so retailers often have to do a little extra work to redeem them across valid purchase and items.
What are the benefits of coupons?
Here are some of the benefits of coupons.
Reduction of Price – Coupons lower the price for the product being purchased. This is important as it will make customers to purchase the product.
Cost Savings – Coupons saves a customer's money as there is an added cost to the product in the form of a coupon. The customer then goes through with the purchase instead of buying a different item that is better priced. This can be great for business owners as they can turn an average product into a big profit.
Marketing – Coupons can be a very effective way to boost sales as they allow the customer to take advantage of products they might not normally buy.
What is a Promotional Code?
Promotional codes are a way of delivering free coupons to consumers, typically in exchange for their e-mail address. These codes can be specific or generic. Both types of codes are referred to as Promo Codes. Promotional codes are usually associated with a specific product or items available from one or more retailers. These codes can be in the form of a URL, complete with a unique code that can be entered at checkout.
The code could be redeemable for a discount on the same product or a different version with the same product list. Codes that are tied to certain offers or discounts are known as Coupon Codes. So where are these codes offered? Coupons are now available in a lot of places online and offline.
How to Save with Promo Codes?
It's easy to find online or store coupons to use for your favourite items in store. It is not only very easy but also very fast. In the modern age, a lot of people have seen first-hand the effectiveness of Coupon Codes. It is said that 70% of consumers will buy from a retailer that offers a discount coupon.
A promo code is just a URL or short code that businesses can send out to customers in the hope that they will spend their money on their store or website. There are rules that govern the eligibility of promo codes for a particular store or brand. But there are some terms and conditions that you need to be aware of before you take advantage of a promo code. Generally, you must be a customer of a store or a brand.
How do I use coupons?
Many people think that they are difficult to use. In reality, you just need to follow the simple steps below. There is no special code and each company offers different discount codes. Coupons are made of various types and are available in a wide range of categories. Coupons may also be individual or coupon-for-each. Many online retailers also offer coupons that can be saved for later use or can be used for instant discounts. Coupon code, however, is a generic term that can be used in a number of different ways.
There are different ways you can use coupons, they can be used online, offline and through multiple places and venues.
– Shop in online stores and make use of online store coupons.
– Print coupons and take them with you to redeem when you reach the store.
But you must know that not all coupons are worth taking or can be redeemed. You should also know that there are expired coupon codes and promo codes that cannot give you a chance to take advantage of significant discounts on products.